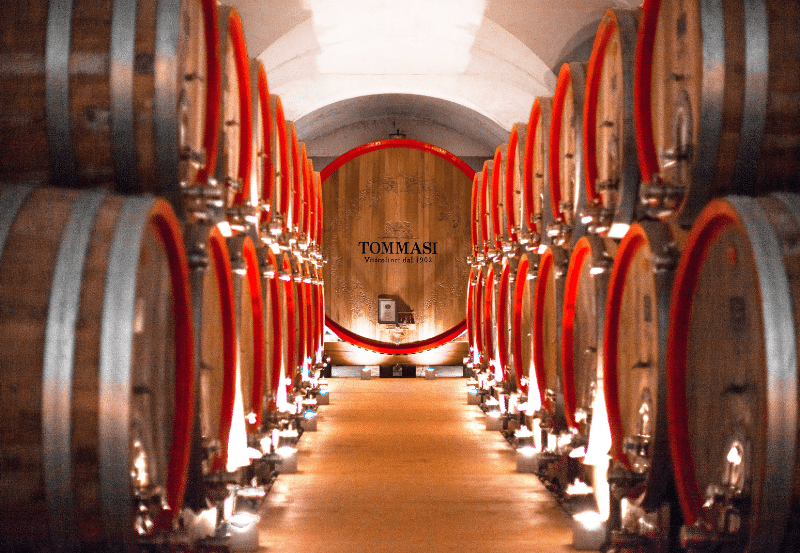 Visit and tasting in the Tommasi winery
Live an unforgettable experience to learn about the world of wine and the Tommasi estate in Valpolicella Classica.
Visits and tours to the cellar can be booked from Monday to Saturday according to availability. Discover the tours and tastings and choose your experience.
Tommasi is the story of a family told through their great love for wine and hospitality. A story involving four
generations who have expressed their passion in territories dedicated to excellence and who have made quality their mission.
A family and a group working for the present and future of Italian wine. Tommasi represents the history of Valpolicella and beyond. With seven wine estates in six regions – Tommasi in Veneto, Tenuta di Caseo in Lombardy, Casisano in Montalcino and Poggio al Tufo in Maremma Tuscany, Masseria Surani in Puglia, Paternoster in Basilicata, a project in Umbria ready in 2023 and a partnership in Chianti Classico with La Massa – the group aims to create great wines, enhancing each individual territory.
The De Buris cultural and wine project completes the picture, linked to the Valpolicella Classica area, the recovery of Villa De Buris and the Amarone Classico doc Riserva.
Four generations of pioneers, explorers, precursors and above all visionaries, attentive to the value of quality in every production phase, respectful of traditional procedures but open to experimentation.
With the unique experience and knowledge cultivated and preserved over time, the Tommasi family intends to enhance each territory, linking itself to a path of sustainability and hospitality.
The care for hospitality is expressed through the structures of Villa Quaranta Wine Hotel & SPA in Valpolicella, Albergo Mazzanti and Caffè Dante Bistrot in Verona and Agriturismo Poggio al Tufo in Pitigliano, Maremma Tuscany.